Many life experiences and exposures that occur before and after pregnancy can have significant relevance to a mother's health before, during, and after pregnancy.
Transformative change is required to achieve the three primary Nurture NJ objectives.  We must all work together to overcome longstanding institutional and systemic obstacles that have been predicated on racism – whether the racism is intentional, unintentional, or systemic.
The very impetus and notion of Nurture NJ are aligned with the desires of every resident in this state, every woman of color, their communities, and their families—to have a safe, healthy, respectful, and joy-filled prenatal, childbirth, and child-rearing experience—and this vision needs to be realized for all women, starting now. First Lady Tammy Murphy recognizes this challenge. She has stepped up and is using her power to shine a light on the systems, people and processes required to secure equitable treatment for the state's Black and brown women.
New Jersey's maternal health outcomes and disparities are among the worst in the country.
Pregnancy-related deaths include women who die during pregnancy or within one year of the end of pregnancy, from a pregnancy complication, a chain of events initiated by pregnancy, or the aggravation of an unrelated condition by the physiologic effects of pregnancy. Approximately one-third of all deaths associated with pregnancy are specifically classified as pregnancy-related. 
The Department of Health's last posted "Trends in Statewide Maternal Mortality" report identified 78 pregnancy-related deaths from 2009-2013, of which 36 (46.2 percent) were to non-Hispanic black women, 21 were white women (26.9 percent), 12 (15.4 percent) were Hispanic women and 7 (7.7 percent) were to Asian women. Unfortunately, this trend worsened; from 2014 to 2016, Black women in New Jersey had approximately seven times more pregnancy-related deaths (46.9 per 100,000 live births) than white women (6.5 per 100,000 live births) (New Jersey Maternal Mortality Review Committee, New Jersey Department of Health). New Jersey's total pregnancy-related death ratio is also increasing: from 12.8 (2011–2013) to 15.3 (2014–2016), measured per 100,000 live births.
Immediate action is necessary for these increasing trends to be reversed.
For every woman who dies, many more women nearly die or suffer severe complications that alter their future reproductive options and can have lifelong negative effects on their general health and wellbeing (See Continuum of Maternal Morbidity chart below). Severe Maternal Morbidity (SMM) is defined by the Centers for Disease Control as unexpected outcomes of labor and delivery [including postpartum depression] that result in significant short- or long-term consequences to a woman's health (CDC, 2017). Chronic pain, post-traumatic stress disorder, and postpartum depression are examples of possible sequelae of SMM. New Jersey's total SMM rate was 192.2 per 10,000 delivery hospitalizations (NJ DOH, 2018).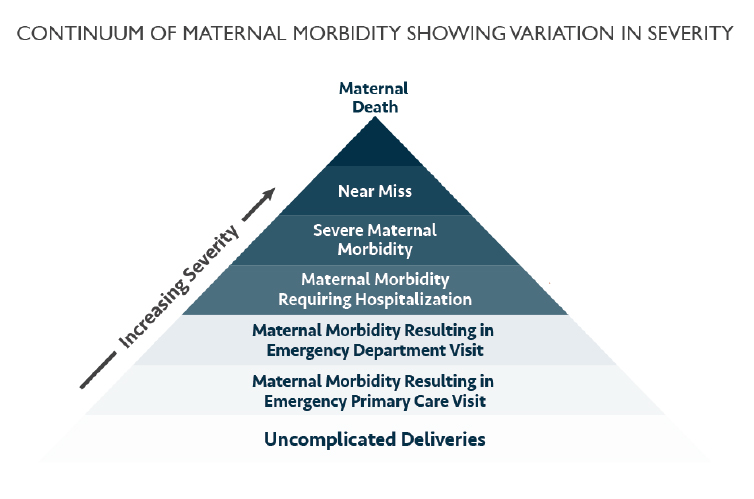 New Jersey's rates of SMM among Black, non-Hispanic women were nearly three times greater than those of non-Hispanic white women (2018). SMM rate is calculated as number of events per 10,000 delivery hospitalizations. In 2018, Black mothers had the highest rate of SMM with transfusion (377 per 10,000 delivery hospitalizations vs 135 per 10,000 for white women). Overall New Jersey's rates of SMM are among the highest in the US and Black non-Hispanic women suffer the highest rates of SMM events (NJ DOH, 2020). 
In 2018, the leading causes of severe maternal morbidity among Black women were disseminated intravascular coagulation (30.8 per 10,000 delivery hospitalizations), acute renal failure (29.2 per 10,000 delivery hospitalizations), shock (21.3 per 10,000 delivery hospitalizations), eclampsia (15.0 per 10,000 delivery hospitalizations), sepsis (15.0 per 10,000 delivery hospitalizations), and air and thrombotic embolism (11.1 per 10,000 delivery hospitalizations) (NJ DOH, 2020).